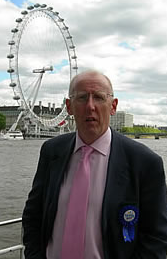 The project to introduce the ExoVasc® Personalised External Aortic Root Support reached an important milestone last month when the first patient to receive the ExoVasc® support – inventor Tal Golesworthy – celebrated the fifth anniversary of receiving the implant that pioneered the procedure.
The occasion was marked by a gathering in London on 22 May that was attended by ten of the nineteen patients who have now received the ExoVasc® implant, together with members of their families, surgeons and members of the company.
Proposing a vote of thanks at the celebration, Professor Tom Treasure spoke of the advances in cardiovascular surgery that made this type of procedure possible and commended Tal Golesworthy for his ingenuity. Professor John Pepper paid tribute to all of the patients who had entered the trial to pioneer the procedure. In his address, Tal Golesworthy thanked the many members of the team of people that had made this advance possible.